So last night the Very Significant Other and I finally got down to shelling and peeling the garlic.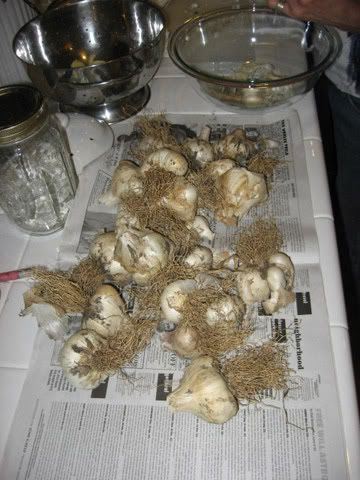 You have no idea how much garlic one has until you have to peel it.
So, we set up a little process...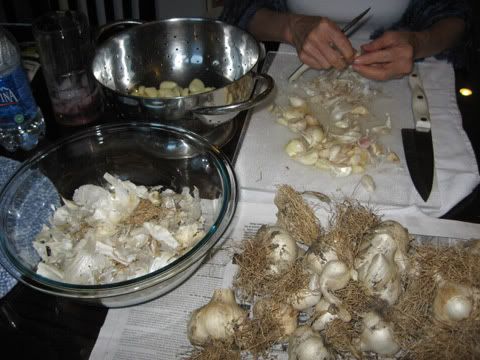 I would separate the the bulbs into the wedges and SO would peel them. As I would separate, some would be easily peeled and others would take some time. It was a very tedious process.
As time wore on, SO started making comments about her hands. I thought this curious since mine were perfectly fine.
SO: My hands are hot.
Me: Hot?
SO: Yeah, burning...
Me: Burning?
SO: ahhhh!!!!!
It went something like this...
GIF animations generator gifup.com
Apparently, one can get an allergic reaction from Garlic, along the lines of a chemical burn. Who knew?
SO quickly put her hands in cold water.(something you don't want to do) I jumped on the net to see if other people experienced this. (upon reflection, that was apretty naive of me. One thing about the internet, everyone on the net has experienced everything there ever was, in ways impossible to imagine).
So first I yelled out, 'PUT THEM IN MILK!"
SO plunges here hands in milk. Mild, but temporary relief.
SO: THEY ARE STILL BURNING!
Me: Okay, Okay. Here's one! RUBBING ALCOHOL!
Luckily, we prep prize fighters in our spare time, so we had some rubbing alcohol in the medicine cabinet.
Applied with a few cotton balls, relief came...but again, temporarily.
SO: THEY ARE STILL STINGING!
Me: BAKING SODA!!! MAKE A PASTE AND SLATHER IT ON YOUR HANDS.
(at this point, I don't know why we are yelling. We are standing like 2 feet from each other).
Then...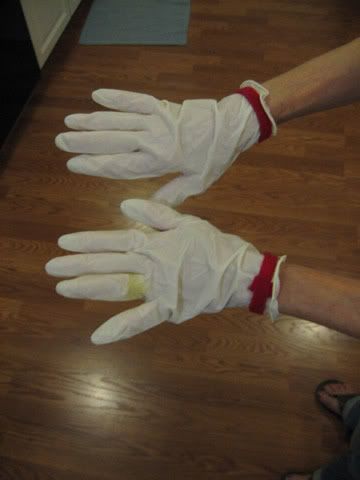 Lovely red velcro, huh?
The effect was almost immediate.
10 minutes later, no more burning at all.
Her hands show no ill effects. :)
So, if you have a garlic reaction; Baking soda!
While my SO writhed in pain, I found out a another thing...
Working with jalapenos? And you get that burning sensation? Run your fingers through your hair. Supposed to work like a charm. But Baking Soda will also do the trick.
So that's it for this quick installment.
Remember Green is Good! But sometimes, very painful!
Cheers!